Ondřej Panoš, head chef at the Spojka Karlín restaurant: "Our goal is to connect everyone at one table, without any prejudices"
Ondřej is the head chef at the Spojka Karlín restaurant and an ambassador of the Rostlinně project. In this interview, he talks about what it was like to be a chef at two restaurants at the same time (for a couple of months, Ondřej also ran the kitchen at the Etnosvět restaurant). Ondřej also tells us about his positive attitude towards plant-based cuisine and discusses the coronavirus lockdown.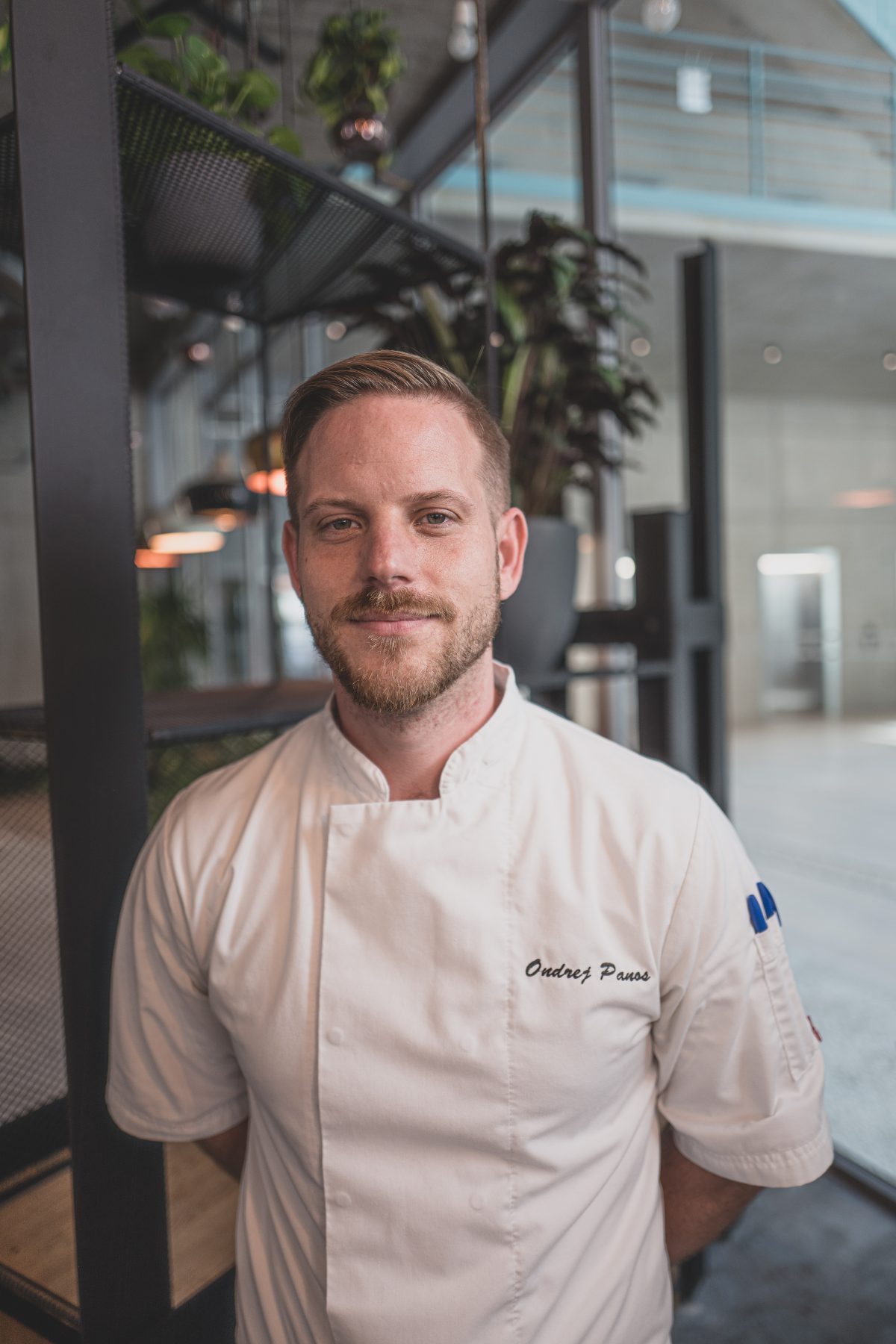 The interview was conducted by Libor Poznicek who is the Project Consultant at Rostlinně.
Ondřej, please take us to the time before the lockdown, and tell us the story of the establishment of the Spojka Karlín restaurant. What is the concept behind it, and how is it related to the Ethnosvět restaurant?
The impulse to open another restaurant came from the owner of Etnosvět, Andrej, about 2 years ago. He more or less left the whole concept to us, so our manager Daria came up with a brilliant proposal for a flexitarian restaurant. At Ethnosvět, we noticed that some of our guests had to compromise on the choice of a restaurant. The goal of Spojka Karlín is to connect everyone at one table, without any prejudices and regardless of whether you are a vegan, a vegetarian or a meat lover. We are also focused on making meals nutritional and in line with our values. We fitted it with a modern design and refined every last detail.
It all started at Ethnosvět. There, our team gained valuable experience with vegan and vegetarian cuisine. Now we can build on that at Spojka Karlín.
What were your beginnings at Ethnosvět? How much of a difference does it make for a professional to cook primarily plant-based dishes when you aren't used to it?
It was a good opportunity to learn something new. When I started out, I was surprised by the level of quality you could reach with plant-based dishes. Over time, I found that cooking without meat is not that much of a difference, and what's more, vegan cuisine makes sense to me, and has a big potential. The work is hard and wonderful, just as much as it would be at a different, meat serving restaurant.
You ran two kitchens at the same time (Etnosvět and Spojka Karlín), what was it like?
A kitchen is a team of people, not just one chef. This means that if you surround yourself with capable and passionate people, you can even handle two restaurants at the same time.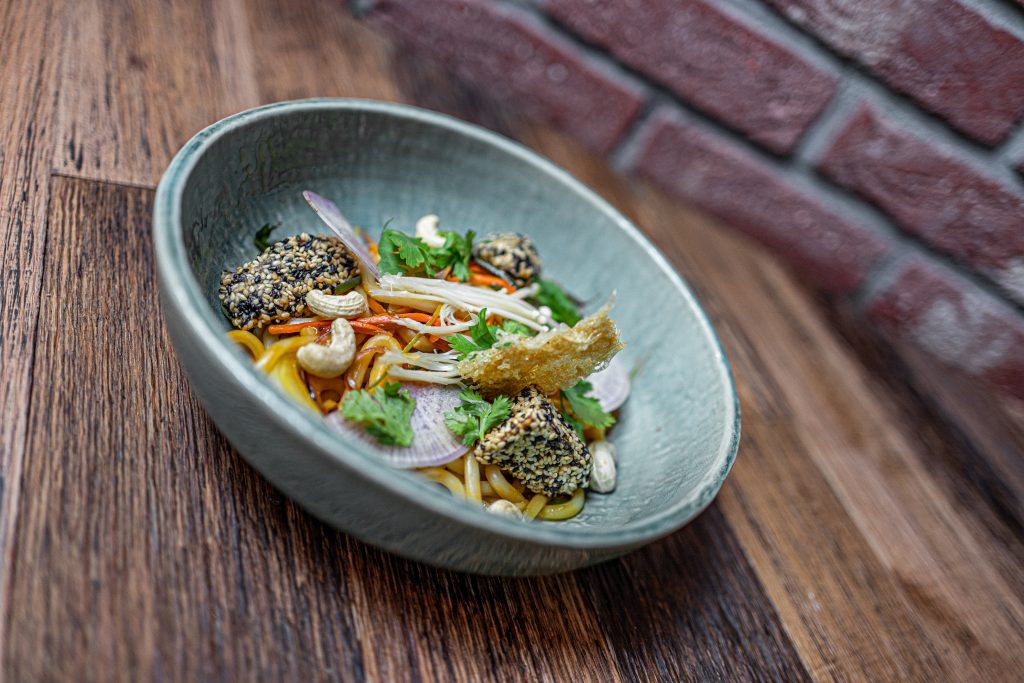 Why do you think having plant-based dishes on the menu is important?
In recent years, the demand for plant-based foods has grown, and there's a simple explanation for it. People are starting to think more about what they eat, the ingredients of their meals and how all of that affects their health. Another reason is surely the ethical side of the entire food industry and its impact on the environment.
There are still several myths circulating among people regarding plant-based diets. For example, that plant-based food is bland. This may be because people have so long been exposed to the meat + side dish pattern, where the side dish is only a supplement. And so, being presented with a dish made of legumes, pasta and vegetables, people may incorrectly assume that it's bland. Plant-based dishes are only bland if you can't make them!
What is your attitude to plant-based cuisine?
I have also started to think more about what I eat, partly due to the fact that I have two small children. I have not quit meat and animal products entirely, but I pay attention to their origin.
What do you think the future of the plant-based trend in gastronomy will look like?
I believe that flexitarianism is the golden mean that will become the future standard in gastronomy. The sooner restaurant owners understand this, the greater their market advantage will be.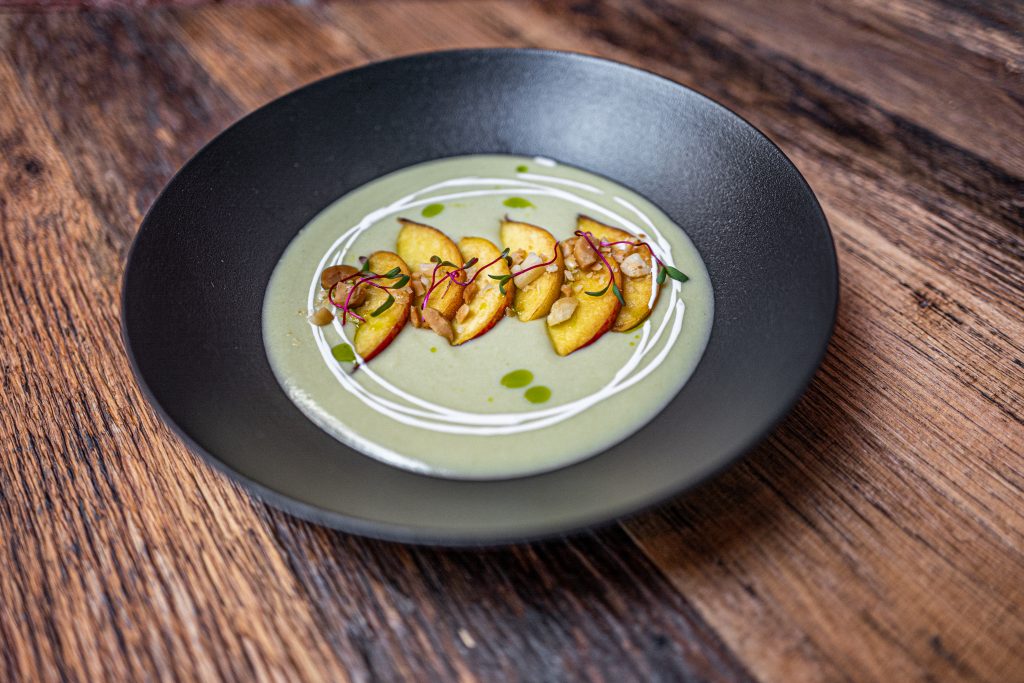 The Czech Republic is in a state of lockdown, and many activities, including running a restaurant, are limited by government measures. Restaurants cannot serve food on their premises and are really on a knife edge. Was Spojka prepared for the crisis? How did you decide to operate when you had to close down?
No one could have prepared for this crisis. It is a huge difficulty for everyone in this business. Back in spring, some restaurants had to close overnight. After the initial shock, we bounced back, and each day we are learning to handle this situation.
We deliver meals using Wolt or Dáme Jídlo services, cooperate with the new Rohlík Bistro project, and offer ready meals in the online shop.
We fight, but even so, our profits do not cover the huge costs of running the restaurant. It is kept alive by the owner, who believes in us and in the whole project. So THANK YOU, Andrei.
How do you think one could prepare for such restrictions in the future?
I think it is good to have some alternative sales channels (delivery, sale of ready meals and other products online, etc.). However, the service that restaurants provide is not just about food. It is about the overall experience of the place, the service and the social contact. It will not be possible to replace these even in the future.
You are a chef, husband and father of two. Who cooks at home?
My wife runs the kitchen at home. It's nice when somebody cooks for you. I was the one to suggest it. She enjoys cooking plant-based meals, often using ingredients that are unusual in our region. Especially when she sees that we like it.
What can your customers look forward to after you reopen?
We are working on a completely new menu that will be fresh, fancy and full of seasonal flavours. As always, you can look forward to Anežka's brilliant sugar-free plant-based desserts. And last but not least, you can expect our entire team to be there, because we can't wait to see you, our guests, at the door!
Thank you for the interview, and we're keeping our fingers crossed for you!
Blog